Beautyhoek
Voor een evenement of als er iets te vieren is, of zou je voor het personeel eens iets heel anders willen? Wij kunnen samen met jullie de Beautyhoek inrichten naar jullie wensen.
Daar kan precies aangegeven worden wat jullie daarin willen hebben. Ook als er een bepaald thema is voor die dag, passen wij dat geheel aan naar jullie wensen. Alles is hierin bespreekbaar.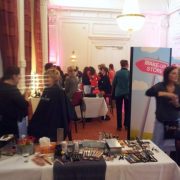 In deze Beautyhoek bieden wij;
Make-over / Visagie
Je wordt hier opgemaakt door onze visagiste en krijgt een paar handige tips mee.
Haarstyling
Het haar kan opgestoken, gekruld of eens met de styletang gedaan worden.
Kleuradvies
Hier krijgt iedereen een persoonlijk kleuradvies.
Manicure / nailart
Door onze nagelstyliste worden de nagels mooi gelakt.
Handmassage
Na de nailart een heerlijke handmassage.
Stoelmassage
Laat je eens lekker masseren door onze professionele masseur
Neem voor meer informatie en prijzen contact met ons op via de contactpagina.
Leuke tip voor:
vrijgezellenfeest – metamorfose workshop – visagie workshop – bedrijfsfeest – beautyhoek – visagieworkshop – relatie dag – visagie promotie – make-up workshop – teambuilding – fotoshoot – bruidsmake-up – beauty team – styling – visagie team – beauty producties – modeshows – vriendinnendag – zussenmiddag – familiedag – metamorfosedag – bruids make-up – dag make-up – glamour make-up – smokey eyes – beauty events – visagieworkshops – workshopvisagie – bedrijfsuitje – visagisten team – freelance visagist – visagie event- visagie dag – beauty dag – promoties – vrijgezellenuitje